WordPress team released version 3.8 the latest updates of their highly popular open source CMS software and the most noticeable new feature within the update is the revamped admin area.
Apart from the new admin area there is another new feature which is the newly introduced Admin Color Scheme. This new feature will be well appreciated by users of WordPress and in some way may have been long overdue.
In previous releases, to customize the admin area with a color of your choice would be through the use of a plugin like the Easy WordPress Admin Color Scheme plugin. Now with the release 3.8 users have the flexibility to choose between eight different color schemes and give their blogs or website an aesthetically appealing admin area.
There is also another plugin called Admin Color Scheme that can achieve the same setting plus an extra eight additional colors to complement the default eight packed in WordPress. I've recently discovered this and already have it installed and running on the site.
Changing the Admin Color Scheme
After updating to 3.8 WordPress will display yoursite.com/wp-admin/about.php screen showing what's new in the release and from there users are given the option to choose their preferred color scheme or keep the default one selected by WordPress. If you make any changes here, immediately after selecting your new color scheme WordPress will apply the changes.
To change the color scheme after that you will need to navigate to Users >> Your Profile and there you will be able to make the changes. We've included a screenshot below of what the new settings look like to assist you in applying these to your blog.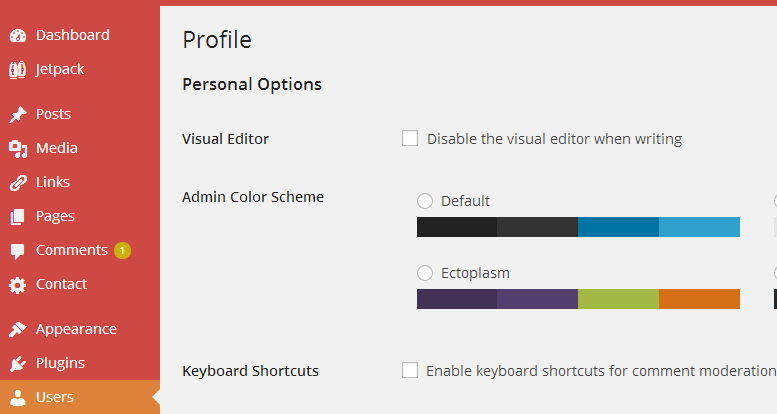 I'm a huge fan of new feature and currently using the Sunrise color scheme on this blog. What about you? Share with us your favorite color scheme and give your opinion on WordPress 3.8 in general.