WordPress allows you to post to your blog using many different tools and Microsoft Word is among the list to do so. Using services like this can improve the workflow of your team and boost productivity in content creation.
If you currently use Microsoft Word to draft your articles, the save as draft and publish feature in it will definitely benefit you. This will eliminate the need to copy and paste the final draft of your new post in the WordPress TinyMCE editor, as Word will automatically automate the process for you. Getting this up and running on your WordPress blog is simple and takes just a few minutes.
How to Configure the Settings

Open MS Word and navigate to File >>New and from the list of available templates select Blog Post. To the right of your screen, the template layout will display along with a button label "create" below it.
Proceed to the next step by clicking create and you will be prompt with the message in the image below.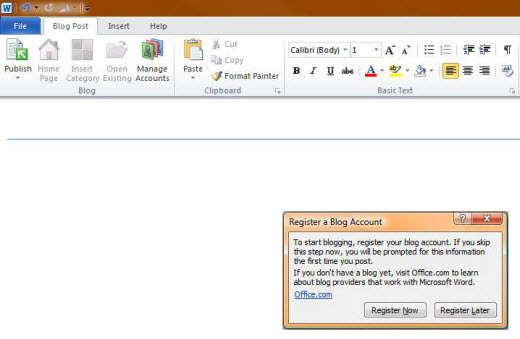 The next step involves choosing your blog provider (i.e. WordPress or Blogger) for Microsoft Word to connect to your blog and configure the setup.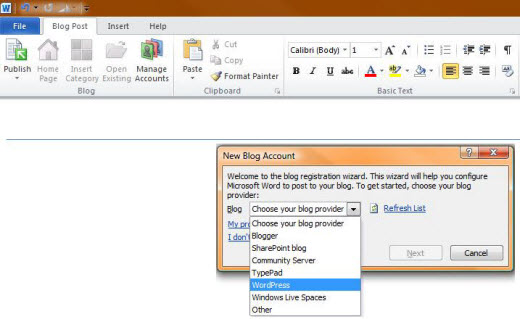 After you have chosen your blogging provider and clicked on next, you will be prompt with another wizard requesting your Blog Post URL, User Name and Password. Proceed to enter your URL and login information and click OK and Microsoft Word will establish a connection to your blog.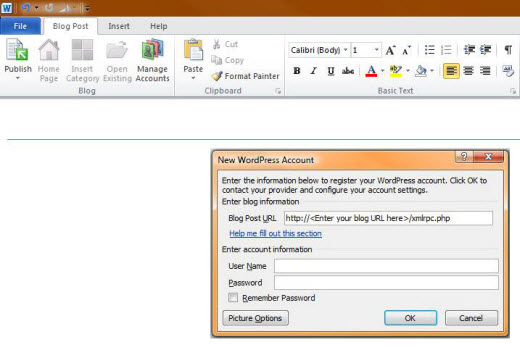 Now if you create a test post and save as draft, Microsoft Word will automatically save it in the post section of your WordPress Admin area and from there you can schedule it for publishing. If you're not working with a team and conduct all the editorial work by yourself you can bypass this step and publish the post directly from Word.
Quick Tip: You can also add categories, navigate to the homepage of your blog and manage additional account all within Microsoft Word.
We hope this article helps you post directly to WordPress through Microsoft Word and improve you or your team productivity. If you have any feedback or question please feel free to leave a comment below or tweet us @webberways on Twitter.