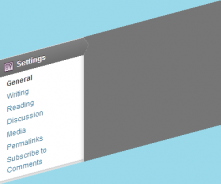 After finish installing WordPress core for the first time on a self-hosted domain there are some basic steps we recommend to perform before officially launching your new blogs or website to the world. Some of these simple procedures will ensure that your blog is visible to search engine and protected against spammers.
1. Install Akismet
This is a simple plugin but yet very useful tool within your new WordPress blog. After installing WrodPress you should activate this plugin to help protect your blog from potential spammers. The plugin require an API key to activate it and it's available upon request at the developer's website akismet.com.
2. Install WordPress SEO
WordPress SEO is a free search engine optimized plugin available for download at the wordpress.org plugin directory. This tool is packed with cool feature that if configured right will increased the visibly of your blog or website to search engine like Google, Bing and Yahoo.
3. Configure WordPress Setting
There are two main areas under this setting that is really important to configure before you start publishing any articles. These include the General, Reading and Permalinks setting tab. Below we discuss further how to configure these setting.
General – Under this tab you will need to set the tag line for your blog and check the check box to allow readers the option to register (assuming you're not running a private blog) and that should sum up the configuration under this tab.
Reading – This area determine how the front page of you site looks. For Example you can configure these setting to display the latest post from your blog which would gradually changes as you published new articles or a static page which shows a welcome message and a feature of your best content.
This area also control the number of articles displayed on your homepage and in your syndicated feeds which you can determine by adjusting the number to accommodate your needs.
Permalinks – The permalinks could be considered one of the most important of the three; reasons being is that if this area does not configure before you start publishing your articles you will have an unpleasant looking post link structure that is not search engine friendly.
The downside to this is that you will need to change the link structure to this setting [www.yoursite.com/sample-post/ ] and you may also need to redirect already published article if WordPress don't perform this by default.
4. Setup User Profile
Completing your user profile and giving your readers a snapshot of who is behind the blog is a good way to give a personal connection to your audience. This is recommended practice for all bloggers as blogging is a community base platform that is driven by wonderful people from across the world and this is probably quickest way to get a glance at who you are.
5. Setup Social Profiles
At this stage of your blog you may not gain any followers until a few months passes by but it's still important to have these profile setup and promoting your newly launched blog. As time goes by and you've updated the blog with fresh content on a consistent basis, whether it's daily or weekly, in due time you will start to attract followers.
Did you find this post useful? Let us know you thoughts in the comment section below.